MACUNGIE, PA – Pennsylvania U.S. Senator John Fetterman on Tuesday walked the picket line with workers from the United Auto Workers (UAW) Local 677 on strike against MACK Trucks in Macungie, PA. Fetterman visited the Local 677 union hall, spoke with union members, talked to local press, and gave remarks to the crowd.
"I proudly stand in solidarity with the striking UAW workers with MACK Trucks across Pennsylvania and this country," said Fetterman.
"The union way of life is sacred, it built Pennsylvania and this country. As long as these workers walk the picket line, I will have their backs."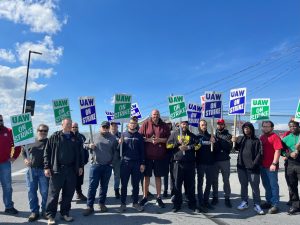 This is the third time Sen. Fetterman has joined striking UAW workers on the picket line in just the past few weeks, though the strike in Macungie is different from the ongoing nationwide strike against the Big 3 automakers.
A few weeks ago, Fetterman drove his UAW-made Ford Bronco from Braddock, Pennsylvania to Wayne, Michigan where he joined striking workers on the picket line on the first weekend of their strike at the Ford Michigan Assembly Plant. Just last Friday, Fetterman also joined striking UAW workers at a GM facility in Langhorne, PA to walk the picket line with them. And today, he joined the UAW workers who just yesterday announced a strike of their own against MACK Trucks.
Two weeks ago, Fetterman also published an op-ed on MSNBC about the ongoing UAW strike against the Big 3 and his support for the striking workers.