HARRISBURG, PA – Pennsylvania U.S. Senator John Fetterman and his wife Gisele Barreto Fetterman on Saturday joined the Central Pennsylvania Pride Festival in Harrisburg.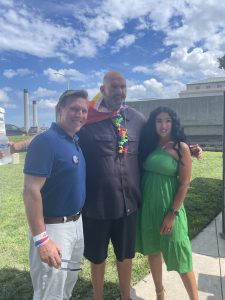 Senator Fetterman, Gisele Barreto Fetterman, and PA State Representative Paul Takac (D-Centre).
Senator Fetterman expressed his continuing support for the LGBTQ+ community and vowed to fight for equal protection under the law. He recounted the story of how, just 10 years earlier as Mayor of Braddock, he officiated the first gay marriage in Allegheny County, for which the PA Health Department threatened to have him arrested.
Senator Fetterman again condemned the recent Supreme Court decision on 303 Creative LLC v. Elenis, where the court ruled in favor of an evangelical Christian web designer from Colorado who refused to work on same-sex weddings. Senator Fettermanpreviously called the ruling "despicable" and a "full on assault on LGBTQ people in America." On Saturday, he once again called the ruling "appalling" and promised to "push back against hate and bigotry" in Washington.
After his remarks, Senator Fetterman and his wife walked around the festival, visiting vendor booths, taking selfies, and chatting with constituents.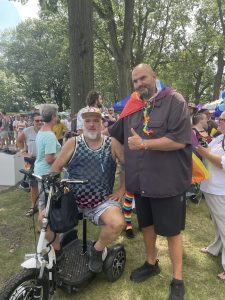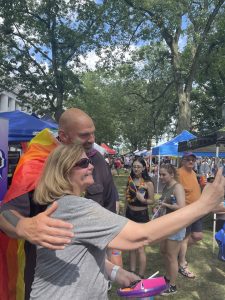 Senator Fetterman poses for photos and takes selfies with constituents.
As Lt. Governor, Fetterman repeatedly flew the Pride Flag from the balcony of the Pennsylvania Capitol. The U.S. Senate just last week defeated an amendment to ban the flying of any flag besides the American flag on or in government buildings, which would apply to numerous flags including the Pride flag.
Senator Fetterman has brought his long time allyship with the LGBTQ+ community down to the nation's capital, where he has spoken out against anti-LGBTQ+ actions in Washington and introduced or joined a number of pro-LGBTQ+ bills. Just last week, he introduced the Name Accuracy in Credit Reporting Act with Senator Tina Smith (D-MN), legislation that would help consumers who have legally changed their names, such as transgender or nonbinary consumers, obtain accurate credit reports and scores.