WASHINGTON, D.C. – Pennsylvania U.S. Senator John Fetterman today chaired his second Subcommittee on Food and Nutrition, Specialty Crops, Organics, and Research hearing, where he focused on agricultural and economic issues critical to Pennsylvania, including expanding crop insurance to cover mushroom farmers, advocating research into psychedelic mushrooms for veterans and others with PTSD, combatting spotted lanternflies, and promoting organic farming.
"This is an opportunity to decrease risk for our farmers, stabilize our food and supply chains, increase access to healthy fruits and vegetables, and support an important sector of the agriculture industry," said Sen. Fetterman.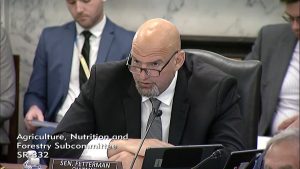 Senator Fetterman's line of questioning reflects his commitment to increasing access to nutrition, advocating for farmers, and investing in rural communities as Chair of the subcommittee.
Senator Fetterman first questioned Chris Alonzo, President and Owner of Pietro Industries, on unique risks associated with mushroom production. The mushroom industry employees nearly 9,500 Pennsylvanians and contributes an estimated $2.7 billion to the local economy, yet mushroom farmers aren't covered by crop insurance. Senator Fetterman this week introduced the bipartisan Protecting Mushroom Farmers Act to require the U.S. Department of Agriculture (USDA) to conduct a study on providing crop insurance for mushroom farmers.
Senator Fetterman also questioned Diana Kobus, Executive Director of PA Certified Organic, on ways to ensure that the U.S. Department of Agriculture's (USDA) standards for organics are uniformly and consistently applied. Pennsylvania is among the top organic producing states, ranking fourth in the nation for the number of organic farms, third in organic sales, and #1 in organic livestock and poultry sales. Earlier this year, the state invested $1.8 million to help conventional farms transition to organic farming.
Senator Fetterman addressed another Pennsylvania agricultural priority when he asked Dr. Margaret Leigh Worthington, Associate Professor at the University of Arkansas, about potential new technologies to combat spotted lanternflies and other invasive species. Spotted lanternflies are currently found in 51 of Pennsylvania's 67 counties and could cost the state approximately $324 million annually if not contained because of the significant damage they cause to critical agriculture. Senator Fetterman today introduced the Spotted Lanternfly Research and Development Act, with Senators Casey (D-PA), Vance (R-OH), and Gillibrand (D-NY) to designate the invasive species as a high-priority research initiative for the National Institute of Food and Agriculture. 
A full recording of the hearing is available here.