DARLINGTON TOWNSHIP, PA – Pennsylvania U.S. Senator John Fetterman on Wednesday held a roundtable with farmers from Beaver and Lawrence Counties who were affected by the train derailment in nearby East Palestine, OH to discuss the lingering effects of the derailment on their operations and wider agricultural issues.
Sen. Fetterman also toured a dairy farm in Enon Valley, PA, run by Alex Leslie and his family, to hear about the farm's history dating back to the Revolutionary War period; its day-to-day operations as a small family-owned dairy farm; and the effects the nearby train derailment has had on its operation.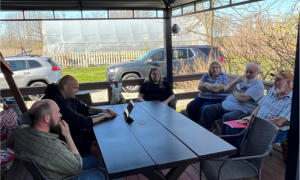 Sen. Fetterman sat down with a group of local farmers and elected officials to discuss the wider impact the train derailment has had on farming operations in the area, in addition to hearing their wider agricultural concerns ahead of the upcoming Farm Bill negotiations he will participate in through his position on the Senate Committee on Agriculture, Nutrition, and Forestry.
"It was an honor and a privilege to sit down with the hardworking farmers of Beaver and Lawrence Counties to hear their concerns following the train derailment in East Palestine, what they want to see from my office moving forward after the derailment, and to hear their wider agricultural concerns ahead of Farm Bill negotiations that are upcoming later this year," said Fetterman.
At the roundtable, Fetterman spoke with Leslie, the local Dairy Farmer; Cliff Wallace, the President of the Beaver-Lawrence County Farm Bureau; Mike Carreon, the chair of the Darlington Township Board of Supervisors and a local cattle farmer; Rachel Wagoner, a local sheep and cattle farmer; and Beaver County Commissioner Jack Manning.
Prior to holding the roundtable and visiting the dairy farm, Fetterman also stopped at nearby nonprofit coffee shop Mohawk Coffee House for an iced mocha.