WASHINGTON, DC – Pennsylvania U.S. Senator John Fetterman completed another busy week today, after penning letters, meeting with constituents and fellow Members, attending receptions, and participating in three hearings for two different committees.
This week's session began on Tuesday afternoon, when Senator Fetterman cast the first vote of the week and met with fellow western Pennsylvanian, U.S. Representative Chris Deluzio. The Pennsylvanian Members share similar goals on Capitol Hill – make more stuff in America; stand up for the union way of life; defend reproductive freedoms and veterans' services; fight corporate jagoffs, and much more.
Senator Fetterman and Congressman Deluzio point to a YINZER sign in Senator Fetterman's office.
On Wednesday, Senator Fetterman joined fellow Pennsylvania Senator Bob Casey and U.S. Representatives Chris Deluzio and Summer Lee on a letter to the National Labor Relations Board (NLRB) urging the Board to quickly investigate any pending unfair labor practice charges in the ongoing labor dispute between the Pittsburgh Post-Gazette and its striking workers and promote both parties coming back to the bargaining table in good-faith.
Senator Fetterman on Thursday sent a letter to Sen. Debbie Stabenow, Chairwoman of the Committee on Agriculture, Nutrition, and Forestry, and Sen. John Boozman, Ranking Member of the Committee, detailing his opposition to the use of Inflation Reduction Act funding for Farm Bill conservation efforts.
Additionally, on Wednesday, Senator Fetterman attended a reception honoring 10 years of GIFFORDS, a gun violence prevention organization started by Gabby Giffords, former U.S. Congresswoman from Arizona and gun violence survivor.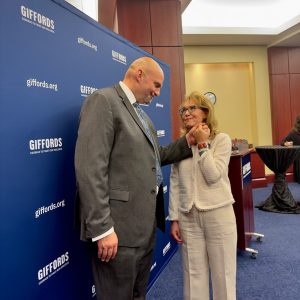 Senator Fetterman and Gabby Giffords at 10th anniversary GIFFORDS reception.
Senator Fetterman had a full week of hearings, including two on Wednesday morning. He first attended an Environment and Public Works committee business meeting discussing project opportunities for a cleaner and stronger economy.
Senator Fetterman then attended a Senate Committee on Banking, Housing, and Urban Affairs on addressing housing challenges, where he promoted Pennsylvania's "Whole-Home Repairs" program and advocated for the program to be available on a national level.
Senator Fetterman at a Senate Committee on Environment and Public Works hearing (left) and a Senate Committee on Banking, Housing, and Urban Affairs hearing (right).
On Thursday, Senator Fetterman participated in Senate Committee on Banking, Housing, and Urban Affairs hearing focused on the oversight of credit reporting agencies. During his line of questioning, Senator Fetterman advocated for the interests of people of color, veterans and military families, and the LGBTQ community. He encouraged the CEOs to take measures to reduce racial disparities and improve access to credit, protect vulnerable communities from fraud and cybercrime, and prevent issues like "fragmented reports" for transgender and nonbinary consumers who change their names.
Senator Fetterman questioning witnesses at Senate Committee on Banking, Housing, and Urban Affairs hearing.